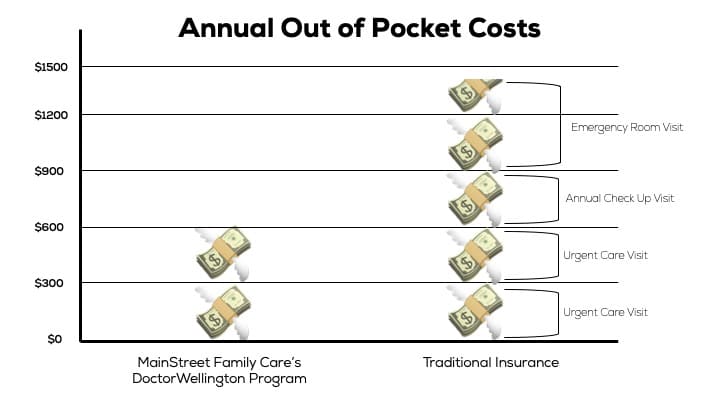 You can offer Doctor Wellington as a benefit for your employees or employees and their families. We're here to share more about how you can save more on out-of-pocket costs. This is how Doctor Wellington works and how you can do it all for $49/month.
Health insurance premiums are sky-high.
Over the last five years, family health insurance premiums increased by 22% on average. This far surpasses the cost of inflation. Additionally, in the last ten years, the cost increased by 54%. Expensive premiums make it cost-prohibitive for many employers to front the cost of health insurance for their employees. As a result, some employers resort to paying a partial amount, some cover nothing, and other employers do not even offer health insurance for employees.
High deductibles are rarely met or cost thousands.
Even if health insurance is offered, high deductibles can leave employees paying thousands every year in out-of-pocket costs. Subsequently, employees must pay their deductible before insurance kicks in and pays for most or all of healthcare costs. Additional co-pays, lab costs, and other after-visit patient responsibility bills quickly add up. These costs often accumulate throughout the year without ever meeting the employee's deductible. As a result, an employee can pay thousands of dollars for simple, routine care, even with insurance.
Direct primary care cuts the costs by cutting out the middleman.
In light of the rising costs of healthcare, a nationwide movement called direct primary care has emerged. Direct primary care (or DPC) gives people the opportunity to have open access to primary care and urgent care for one low cost per month. The patient (or employer) pays a monthly subscription amount to become a member. As a result, members can go into participating clinics like MainStreet Family Care for all their routine healthcare. This includes annual checkups, urgent care visits, tests, stitches, and x-rays. All without paying copays or receiving surprise bills. Lab costs are typically included or billed upfront for a low, cash-pay price. MainStreet Family Care now offers a direct primary care service, DoctorWellington. DoctorWellington membership costs just $49/month, with the option to add urgent care coverage for children for only $10/month. Most importantly, the chart below compares the out-of-pocket costs for using traditional insurance vs. DoctorWellington.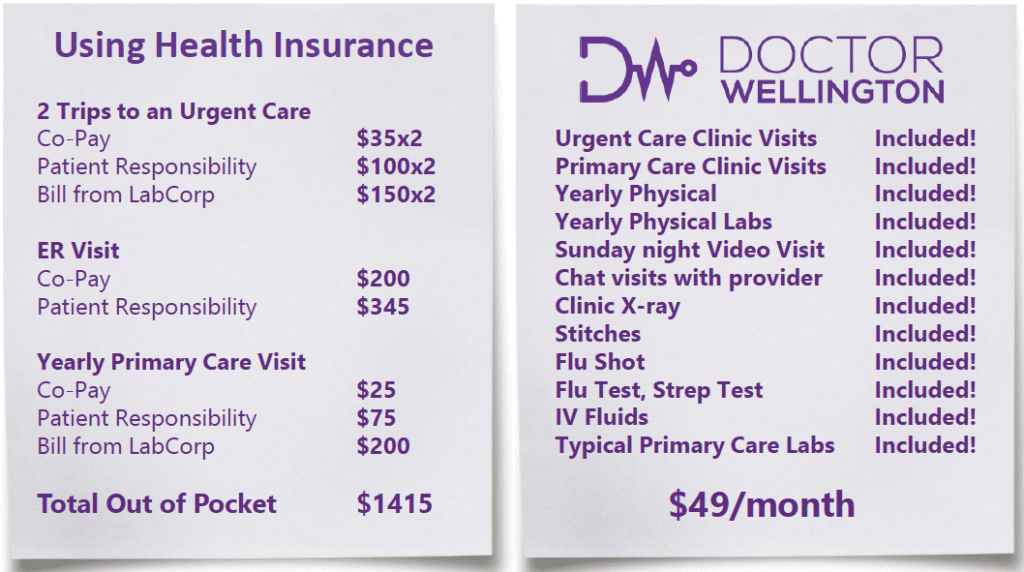 How do we do it for $49/month?
The bottom line is that administrative costs overwhelm the healthcare system.  Administrative costs account for around 30% of all healthcare costs.  Medical coding and billing required for insurance reimbursement make up the majority of these costs. As you can see in the graph below, the cost of administrators has increased over 3000% in the last 40 years. Meanwhile, the cost for physicians has only increased by 100% (Source: Bureau of Labor Statistics). Essentially, the growth in the cost of administering medical care is TWENTY TIMES the growth in the actual medical care itself. Working directly with the patient instead of the insurance company means costs are reduced for the patient. Doctor Wellington connects patients directly to medical care. This cuts through the red tape by bypassing the administrative burden.
How can you or your employees sign up to start saving?
You can offer DoctorWellington as a benefit for your employees or employees can register their family themselves. Contact our team at info@doctorwellington.com to speak with a member of our leadership team. We can discuss how to let your employees know about DoctorWellington.
Interested in offering DoctorWellington for your employees?
Email us at info@doctorwellington.com
Call us at (205) 709-2922