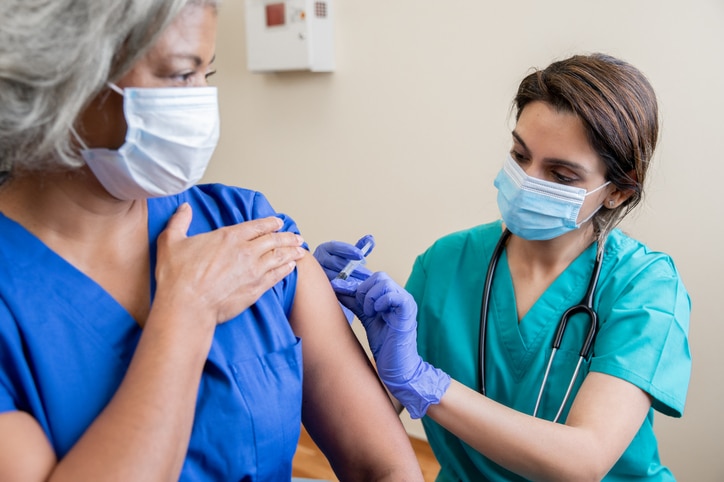 Booster shots and third doses of the COVID-19 vaccine are now available at MainStreet Family Care. Check out the information below to learn more about the difference between booster shots and third doses, who is eligible, and how to register online.
What is a third dose of the coronavirus vaccine?
The third dose or additional dose of one of the mRNA COVID-19 vaccines (Pfizer or Moderna) is identical to the first two doses. It can help protect people with weakened immune systems who did not have a strong enough response to the first two doses of one of the mRNA vaccines. Such people can get a third dose as soon as 28 days after a second dose. The FDA has authorized, and the CDC recommends, that those with certain medical conditions that suppress the immune system get a third dose of the same brand of COVID-19 vaccine that they initially received.
What is a COVID-19 booster shot?
A COVID-19 booster shot is a dose of a vaccine given after the protection provided by the original dose(s) has begun to decrease over time. The booster is designed to help people maintain their level of immunity for longer. The recommended booster dose of the Moderna vaccine is 0.25mL, which is half of the initial two doses.
Who is eligible for the booster shot of the vaccine?
The CDC & FDA has approved Moderna booster shots of the vaccine for those who are 18 and older.  If you originally received the Moderna or Pfizer vaccine, CDC recommends you wait at least 5 months after your second dose to receive a booster shot. Everyone who received the Johnson & Johnson vaccine is recommended to receive a booster dose 2 months after your initial dose.
How do I get my COVID-19 booster shot or third dose?
Whether you need a booster shot or a third dose of the COVID-19 vaccine, you can register online to get yours today. Select the clinic nearest you and register online by filling out your information. Under "Reason for Visit" you can select Modern Covid Vaccination. Our staff will text you when it's your turn to come to the clinic to receive your vaccination. When you present to the front desk, you can let the staff know if you need a booster dose or a third dose.