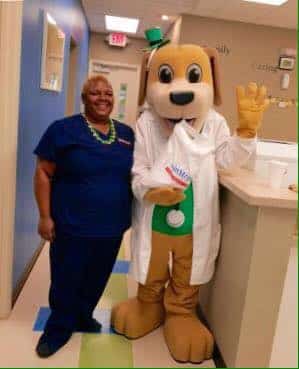 Family Spotlight: April Mosley, MA
This month, we are shining our Family Spotlight on our fantastic MA, April Mosely. April is a kind, hard-working, and extremely helpful MA, and we are beyond lucky to have her as a part of our MainStreet Family in Eufaula. She is first to help while at work- jumping at the chance to open a door for you, help other employees carry in supplies, or just offer a friendly smile to you whenever you see her! We caught up with April and asked her a few questions about working at MainStreet Family Urgent Care. Continue reading below to learn more about our wonderful employee and friend, April Mosley!
What is one memory that sticks out from your time working at MainStreet?
"That would have to be my phone call from Kate offering this job to me!"
What is your favorite thing about working at MainStreet?
"I love working for MainStreet because I've never had anyone I have worked for call me personally to thank me and tell me that I am appreciated. I was going through some things that day, and that call from Kate in HQ lifted my spirits! I don't do what I do to be recognized, but I admire the fact that she took the time to call me.  I also love that the atmosphere is focused on a family environment!"
Any awards or professional accomplishments we should know about?
"Not yet, but I am hoping to graduate with an Associate's in Medical Assisting in September. (I let my certification lapse some years ago, so I had to start over)."
What is your hope for the future of MainStreet Family Urgent Care?
"Honestly, I would love to see MainStreet expand to Georgia's rural communities and eventually, other rural areas around the country. There are so many areas where our services could be useful, and I pray that we can continue to be successful and grow."
We love our April, and we know that you will have the best experience at MainStreet Family Urgent Care, especially when she is there to brighten your day! Next time you are in the clinic, make sure to give April a high-five and tell her how much you appreciate the work she does to make our clinic great!