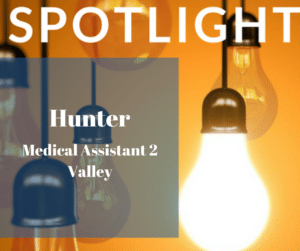 Meet our wonderful Medical Assistant, Hunter!
Hunter, originally from Saint Augustine, Florida began working at MainStreet at the end of 2017. He is currently enrolled in nursing school and upon graduating has plans to specialize in cardiovascular intensive care, or the labor and delivery field. Hunter has a strong passion for teaching people about healthcare, contraceptives, and different options available to them.
One thing that stands out about Hunter at MainStreet is his ability to stay focused no matter what the situation. Hunter takes pride in his job and excels not only by his knowledge of the medical industry, but also with the care and compassion that he shows to our patients.
During his off time, Hunter enjoys hanging out with his partner Trevor and their Australian Shepard named Ty. He also enjoys listening to music, going to the lake, spending time outside, refinishing furniture, and going to the beach.
How'd you get involved at MainStreet?
I was looking for a Medical Assistant position while applying for nursing school and saw a position open at MainStreet.
What is your favorite thing about working at MainStreet?
I enjoy the great relationships I have with my co-workers.
What's a memory that sticks out from your time working at MainStreet?
Some of the interesting cases that we've received.
What's your hope for MainStreet in the future?
I hope that they prosper in their growth, and I hope that the patients continue to receive the excellent care MainStreet is known for.
What do you believe is your biggest accomplishment professionally?
Getting into nursing school.
Have you received any awards?
I used to compete in horse shows competitively and won all kinds of awards. I specialized in a type of riding called Hunter Jumping.
Thank you for taking the time to get to know our MainStreet Family!