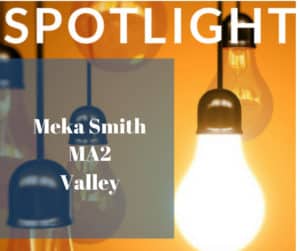 This month's Family Spotlight, we would like to tell you a little more about our Medical Assistant, Meka!
Meka comes from a military family. She was born in Washington D.C. but grew up in Savannah, GA. Now she lives with her children in Midland, GA. She came to this area in 2008. Meka has 4 kids ranging from 4 months to 16 years.
As a Medical Assistant, we've heard wonderful things about Meka. She has been with MainStreet since December 2016 and is very knowledgeable in her MA2 position. She never fails to complete the task and if there is an issue, she will arise and find the solution. Meka was traveling between our 16 locations, but now she is Full Time with our Valley location. We are very thankful to have Meka on board with our MainStreet family and we hope for a wonderful future with her alongside us.
How did you get involved at MainStreet?
I saw a job posting on Indeed and applied. I had just moved back from Savannah where I had been working in the trauma center for 2 years.
What is your favorite thing about working at MainStreet?
There is a lot of autonomy, which allows us a lot of freedom. MainStreet runs on the basis that we are all adults and can do our jobs without direct supervision and that is refreshing. I also enjoy that there is plenty of room for advancement within the company.
What is a memory that sticks out from your time working at MainStreet?
Our front desk team member, Ansley, almost gave birth at work.
What is your hope for MainStreet in the future?
I would like to become a mentor or a clinical educator. I love helping when I'm needed. Or if MainStreet was to open an in-house pharmacy, I'd love to be able to work in it because I'm going to school for pharmacy.
What do you believe is your biggest accomplishment?
Finishing pharmacy school in November, then going to nursing school.
Have you received any awards?
I was on the Dean's list, received a Wow award, and a Super User award.
Thank you for taking the time to get to know our MainStreet family!