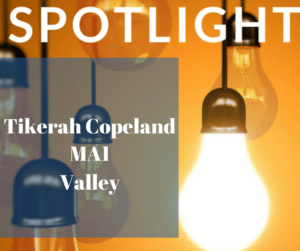 On this month's Family Spotlight, meet Tikerah Copeland!
Tikerah, more commonly known as Ti, currently holds the Medical Assistant 1 position at our MainStreet location in Valley, AL. She is local to the area, having grown up just down the street in West Point, GA. Ti has a close-knit relationship with her mom, Opal, and grandmother, Debrah. When possible, she even brings her family to different MainStreet events to enjoy the time with them while with her work family.
Ti has been at MainStreet since December of 2017. One thing we love about her is the great things we hear from her patients. Ti never fails to have rave reviews from patients that speak about her kind personality and efficient care. At MainStreet we strive to treat everyone like family, and Ti exceeds that expectation daily.
During her time off Ti enjoys spending time with her friends, reading, shopping, cooking, and enjoying what she cooks. Her all-time favorite? Baked Spaghetti! 

 "I love patient care. I decided to get into the medical field because I love helping people.  I love being the reason that someone smiles. A lot of people are uneducated about their health and I feel if I go into the medical field I can help to educate people about themselves so that they can have a better understanding."
How did you get involved at MainStreet?
I went to school for medical assisting and saw an opening to be a Medical Assistant at Mainstreet and figured this would be a great place to start out at for my medical career.
What is your favorite thing about working at MainStreet?
The patients. I just love getting to know different people. Sometimes it can get a little personal with the patient and I love knowing that something as small as being nice to them can make them feel better or better their day.
 What's a memory that sticks out from your time working at MainStreet?
We had a really nice Christmas party last year and I had only been at MainStreet about 2 weeks, so the fact that they were so nice and invited me to their Christmas party without really knowing me was nice. We played games and I even won a gift. I had a really good time.
What's your hope for MainStreet in the future?
I hope to gain better understanding and knowledge from my time working at MainStreet. There can be a lot of communication barriers in this career. What I hope to continue to learn is how to better understand and cope with all patients needs and get more in-depth detail within the medical field. I work closely with the Nurse Practitioners and gain a lot of hands-on knowledge that I can't get from books.
What do you believe is your biggest accomplishment professionally?
Learning how to stay calm in an intense situation. A lot of people don't know how to keep themselves centered. I've learned to stay calm in the midst of chaos.
Have you received any awards?
I received a lot of awards in High School. I got the JH Barry award for some type of academic excellence.
Thank you for taking this time to get to know our MainStreet Family!