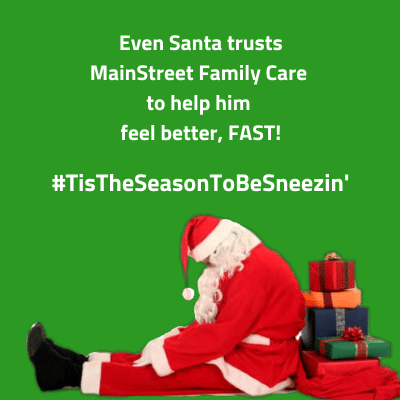 With the arrival of the holidays, how can an urgent care help you as the cold and flu season arrives with it?
MainStreet Family Care and KidsStreet Urgent Care can help you feel better, FAST!
How can we help?
We're open seven days a week

No matter what day of the week during cold and flu season the flu bug hits, we are open to get you the care you need!

Extended hours

Maybe you start feeling icky at work? No worries! We stay open late so you can come in after work!

Convenient location

We are located near a major highway with a easy accessible parking lot!

We accept all major insurances

Blue Cross/Blue Shield, Viva, Medicare, Medicaid, and MORE! Just give us a call to check on your copay!

The Family Treatment

At MainStreet, during cold and flu season and all the time, we aim to treat you like family when you walk through our doors. Enjoy a cup of coffee or hot chocolate and grab a blanket. It's just like you're still at home on your couch!
For more information, visit us at mainstreetfamilycare.com or kidstreeturgentcare.com.