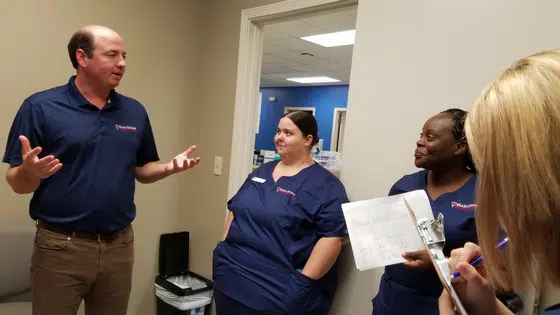 Medical Director Dr. Timbo Taylor was one of the first to join the MainStreet Family as our company grew from the ground up. After graduating from the University of Mississippi, Dr. Taylor completed a residency program at the University of Arkansas. Upon returning to the South, Dr. Timbo Taylor spent several years as an ER physician with St. Vincent's in Birmingham before transitioning into urgent care. We took some time last month to catch up with Dr. Taylor to talk about his time at MainStreet.
What is one memory that sticks out from your time working at MainStreet?
I would say this year's company Christmas party. It was a physical affirmation of just how far we have come in such a short time. Last year's Christmas party was 12 people sitting in a circle at our HQ office in Birmingham. This year's part was 150+ of us rocking out at Old Car Heaven. And the true magic is, this year didn't feel like any less of a family gathering.
What is your favorite thing about working at MainStreet?
I have several aspects of my job that I really enjoy, but if I had to pick a favorite, it would be working with the Nurse Practitioners. I spend a lot of my time in the clinics working with them directly.  I've yet to meet a person in medicine (or life for that matter) that knows everything, so I view my relationship with them as a two-way street.  I learn things from them, they learn things from me, and we all learn things from our patients.  Practicing medicine is a process, and every new patient is a learning experience.
Any awards or professional accomplishments we should know about?
Let's see…  I am yet to win an Oscar, Pulitzer or Nobel Prize.  No NFL MVP's to my name either.  I've dreamt of winning the Masters, but I don't think that counts.
On a serious note, I did receive the Pediatric Critical Care Transport Resident of the Year award during my residency at the University of Arkansas.  Part of my emergency medicine residency was spent at Arkansas Children's Hospital on their critical care transport team.  The award is voted on by the faculty and staff members and given to one resident a year.
What is your hope for the future of MainStreet Family Urgent Care?
That we continue to deliver high quality, customer friendly, cost efficient, healthcare to rural communities in Alabama.  As the medical director, I feel a responsibility to our patients, but I also feel a responsibility to our staff.  So, my hope is that we continue to foster a culture that makes our employees proud of what they do, and where they do it.