When Does Online Registration Open Each Day?
Online registration is now available at all MainStreet and KidsStreet clinics. Learn more about our contactless registration process. We suggest you register online as early as possible to increase your chances of being seen at our clinic today. Our online registration opens 30 minutes before the clinic opens.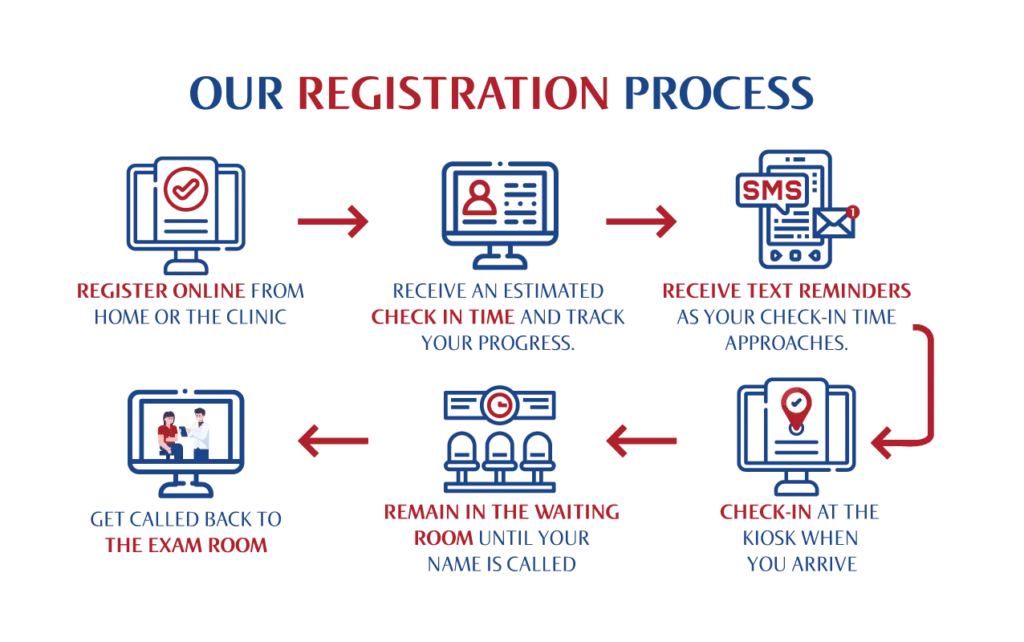 Online Registration vs. Walk-Ins and Wait Times
Patients will be seen in order that they register. Many of our patients register online and wait from home; therefore, if you walk into the clinic, many people will likely walk in after you who have registered online and, therefore, will be seen before you. This is due to them being in the queue ahead of you.
Once you've registered, we ask that you wait in your car or at home until you receive the text indicating we are ready for you to head toward the clinic. We give you a 30-minute window once the text has been sent for you to arrive.
Note: Once you arrive at the clinic, you will still have a bit of a wait in the waiting room as our staff prepares to see you. Registering online reduces (does not eliminate) your in-clinic wait time.
In order to reduce the risk of illness for you, our patients, and our staff, Only patients and parents/guardians of minor patients are permitted in the clinic. All other family members or guests must remain in the car or wait outside.
Please select the clinic nearest you below to start the online registration process:
Online Registration Questions or Concerns?
If you have further questions, please do not call the clinics. Our clinic staff is working tirelessly to focus on patient care. We're happy to provide an immediate response to patients who Contact Us. Please click below to find some answers to frequently asked questions.
Can I pre-register for an appointment tomorrow or at a later date?
When should I come to the clinic?
Do you have COVID-19 PCR testing?
How much does COVID-19 testing cost?