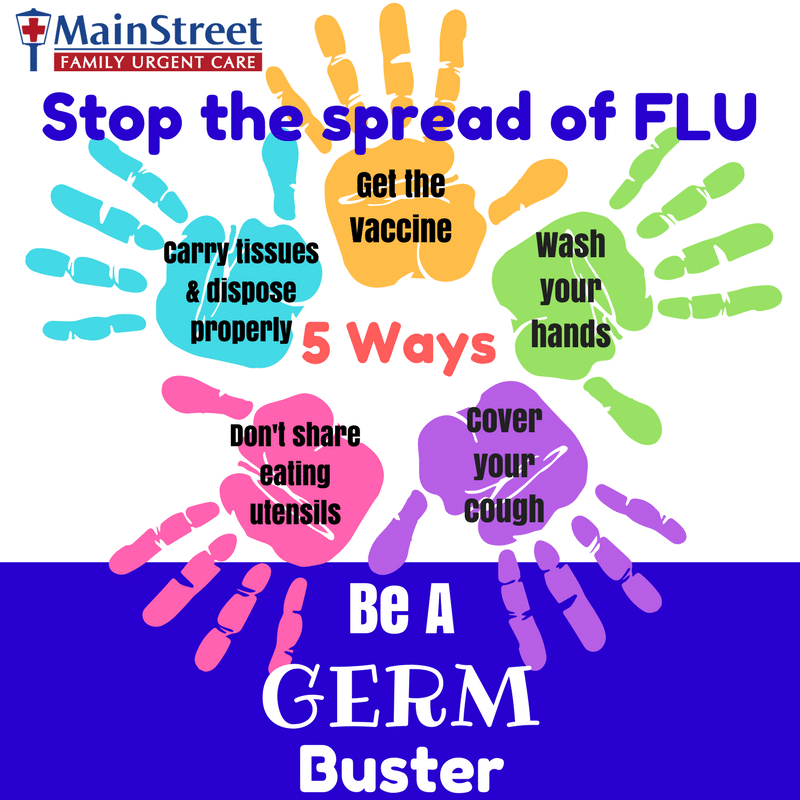 We would like to share some important information that we obtained from the CDC on Flu Season! Many reasons why you should recieve your flu vaccination at MainStreet Family Urgent Care!
The flu is a contagious respiratory illness caused by influenza viruses that infect the nose, throat, and sometimes the lungs. It can cause mild to severe illness, and at times can lead to death. The best way to prevent the flu is by getting a flu vaccine each year.
While seasonal influenza (flu) viruses can be detected year-round in the United States, flu viruses are most common during the fall and winter. The exact timing and duration of flu seasons can vary, but influenza activity often begins to increase in October. Most of the time flu activity peaks between December and February, although activity can last as late as May.
People who have the flu often feel some or all of these signs and symptoms that usually start suddenly, not gradually:
Fever* or feeling feverish/chills
Cough
Sore throat
Runny or stuffy nose
Muscle or body aches
Headaches
Fatigue (very tired)
Some people may have vomiting and diarrhea, though this is more common in young children than in adults.
The time from when a person is exposed to flu virus and infected to when symptoms begin is about 1 to 4 days, with an average of about 2 days.
The best way to prevent seasonal flu is to get vaccinated every year. This page has resources to help answer your questions about the flu vaccine.
MainStreet Family Urgent Care has recieved our stock of Flu vaccines! No appointment needed, just stop in for a quick minute to protect yourself and have your family protected at the same time!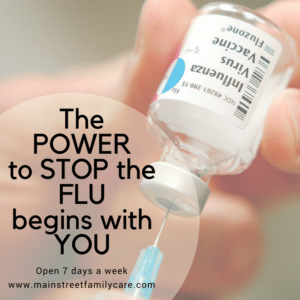 We are open 7 days a week, and are there for YOU when you need us! Monday-Friday 8am-8pm, Saturday 8am-6pm and Sunday 1pm-6pm!