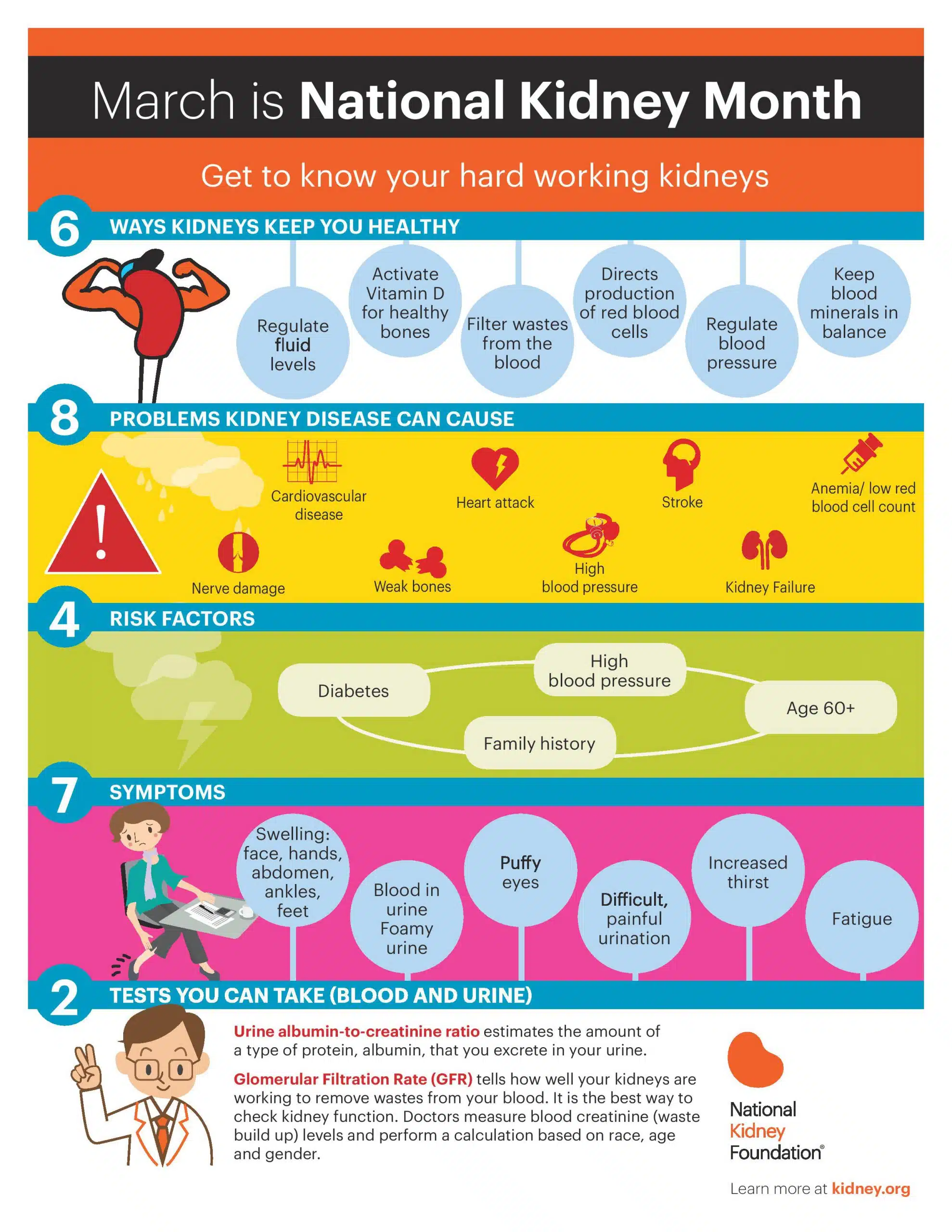 March is National Kidney Month. Here are five things you can do to promote good kidney health.
Our kidneys are chemical factories. They filter waste and perform vital functions that control things like red blood cell production and blood pressure. However, over time, kidneys can become damaged with little or no physical symptoms to warn you that they're in trouble. That's why we've compiled five things you can do to promote good kidney health.
Five Simple Things for Healthy Kidneys
Get Tested! Ask your provider for an ACR urine test or a GFR blood test. This is good to get annually if you have diabetes. Also if you have high blood pressure, are over age 60, or have a family history of kidney failure.
Reduce NSAIDs. Over-the-counter pain medicines, such as NSAIDs (nonsteroidal anti-inflammatory drugs), may alleviate your aches and pains. However, these can harm the kidneys, especially if you already have kidney disease. Reduce your regular use of NSAIDs and never go over the recommended dosage.
Cut the Processed Foods. Processed foods can be significant sources of sodium. In addition, sodium, nitrates, and phosphates have been linked to cancer, heart disease, and kidney disease. Try adopting the DASH diet to guide your healthy eating habits.
Exercise Regularly. Your kidneys like it when you exercise. Regular exercise will keep your bones, muscles, blood vessels, heart, and kidneys healthy. Getting active for at least 30 minutes a day can also help you control blood pressure and lower blood sugar, which is vital to kidney health.
Control Blood Pressure and Diabetes. High blood pressure and diabetes are the leading causes of kidney disease and kidney failure. Managing high blood pressure and strict control of blood sugar levels can slow the progression of kidney disease. Speak with your doctor if you are having trouble managing diabetes or high blood pressure.
Kidney Facts
1 in 3 American adults is at high risk for developing kidney disease today.
High blood pressure, diabetes, a family history of kidney failure, and being over 60 are major risk factors for developing kidney disease.
1 in 9 American adults has kidney disease — and most don't know it.
Early detection and treatment can slow or prevent the progression of kidney disease.
Kidney disease risk can be reduced by controlling blood pressure and blood sugar, quitting smoking, regular exercise, maintaining a healthy weight, and avoiding excessive use of pain medications.
For more information on the awareness, prevention, and treatment of kidney disease, visit www.kidney.org. If you're in need of a primary care provider or would like to visit MainStreet for a primary care appointment, click here.