Eufaula's Urgent Care and Primary Care Clinic
Located across from Winn-Dixie on Hwy 431 in Eufaula
When you or your loved ones are faced with illness and injury, you need help now – not whenever your doctor can fit you into their schedule.
As a Eufaula urgent care clinic, MainStreet Family Care delivers quality care for a wide range of non-emergency conditions for the entire family.
We're Eufaula's most convenient choice for quality care that's cost-effective, comfortable, and compassionate. Open late 7 days a week; we're available when you need us.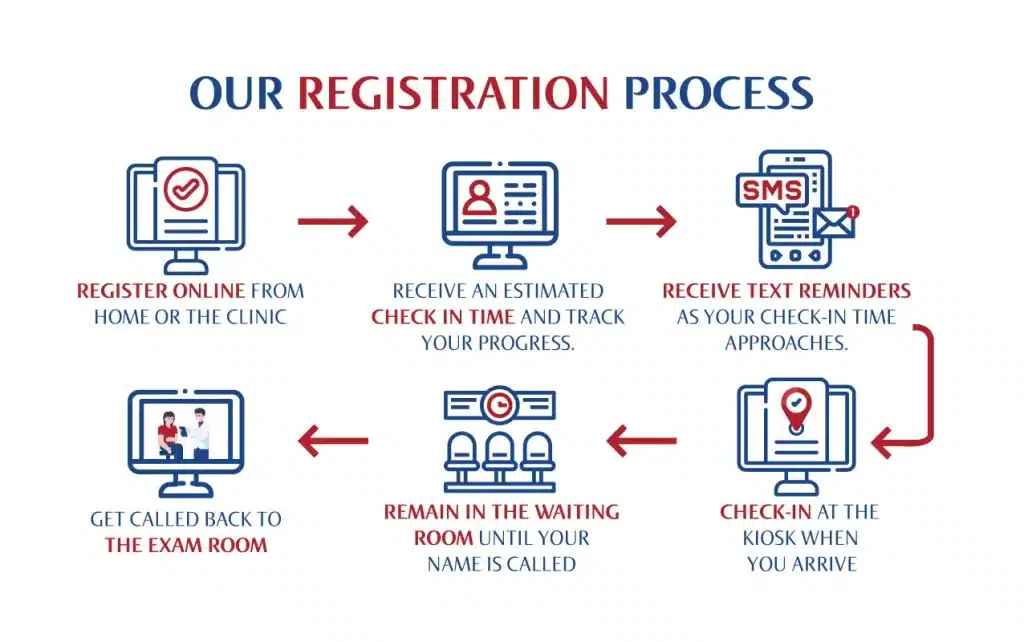 Urgent Care in Eufaula, Alabama
Our Eufaula urgent care center helps treat families with these urgent care services:
General Illness
Sore throat

Cold and flu

Nausea and vomiting

Allergies and asthma

Diarrhea and stomach ache

Aches and pains
Minor Injuries
Sprains and strains

Broken bones

Neck and back pain

Sports injuries

Work-related injuries

Cuts and lacerations

Dislocations and joint pain
Infections
Sinus infection

Ear infections

Upper respiratory infections

UTIs
Other Medical Conditions
Allergic reactions

Foreign object removal

Minor burns

Eye injuries

Ingrown toenails

Insect stings and animal bites
We can handle your non-emergency illnesses and injuries and see patients every day of the week with late-hour access. 
To reduce your wait time, please register online so you can start the wait from the comfort of your home or car.
---
Insurance and Medicaid Accepted At MainStreet in Eufaula, Alabama
We accept most major insurance plans. However, it is the patient's responsibility to bring along a valid government-issued ID with them to each visit. Subsequently, we require that all patients have a valid, non-expired ID present in order to be seen by a provider.
BLUE CROSS BLUE SHIELD – ALL BLUE CROSS PLANS, BOTH IN-STATE AND OUT-OF-STATE
MEDICARE
ALABAMA MEDICAID
GEORGIA MEDICAID AND THEIR MANAGED CARE PLANS
UNITED HEALTHCARE
TRICARE
VIVA HEALTH
AETNA
CIGNA
HUMANA
HEALTHSPRING
ALIGN NETWORK
AARP
AFLAC
AIG
ALLIED NATIONAL
ALLSTATE INSURANCE COMPANY
AMERICAN NATIONAL
AMERIGROUP
ASSURANT HEALTH
CENTURY HEALTH
CONTINENTAL LIFE
HARTFORD INSURANCE CO.
LIBERTY MUTUAL
MAYO MEDICAL PLAN
SEDGWICK
HOORAY HEALTH
MainStreet Family Care is a primary care and urgent care that accepts Medicaid and most major insurance plans in Eufaula, Alabama!
---
When Should I Seek Care?
Urgent care is for conditions that aren't life-threatening. If you're experiencing a medical emergency, call 9-1-1 immediately. 
Our walk-in clinic offers quality care for non-emergency conditions. The best time to visit our clinic is as soon as you notice something is wrong. Most illnesses begin with minor symptoms that you think will just go away. Sometimes, they do – but often, your illness worsens and causes more pain and discomfort than necessary.
Register online for quality care early, and you'll have a better chance of reducing the length and severity of your illness.
For injuries that occur while working or being active or for household injuries like minor burns, cuts, and punctures, our urgent care center is available for prompt treatment. 
Is MainStreet a Walk-In Clinic?
Yes, we offer quality care to walk-in patients. You don't have to schedule an appointment. If you want to reduce your wait time, we recommend registering online as soon as you realize you need to come in. Registering online will place you in the line immediately, instead of when you show up at the front desk.
What Should I Bring?
We recommend bringing the following:
A form of photo ID

Proof of insurance

Any necessary forms to be completed

Emergency contact information

A list of medications you're currently taking, with their dosage amounts

A method of payment
We also recommend wearing masks and have them available for those who need them.
---
Primary Care in Eufaula, Alabama
MainStreet is also proud to be a primary care provider for Eufaula. 
You can turn to our trusted and experienced healthcare experts as your regular provider. They can help you manage your health even when you're not sick, from routine check-ups and examinations to any diagnostic tests you need. 
We can also refer you to a specialist should you require additional treatment. 
Primary care can help you and your family reduce the number of times you become sick or injured and the severity of your symptoms. That's because seeing a physician consistently can help you not only diagnose serious conditions earlier but also ward off minor conditions by being healthier overall.
Every family needs a primary care provider. If you and your family need one or want to become a valued member of the MainStreet family of patients, please sign up below.
Sign Up Now! 
Step 1: Signup for the Patient Portal 
Step 2: Schedule Your First Appointment 
Register New Patient Portal Account
If you already have a portal account, simply log in.
---
Occupational Health in Eufaula, Alabama
Workplace injuries are an unfortunate fact of life. They happen when we least expect them, and when they do, workers and employers both need a trusted partner to help provide quality care at a moment's notice.
MainStreet offers occupational health services in Eufaula, Alabama. We partner with local businesses to offer cost-effective treatment for injuries, and also low-cost, ongoing services like screening every organization needs.
You can rely on us for:
Workers' compensation diagnosis and treatment

Drug and alcohol screening

Testing (pre-employment and infectious diseases like COVID-19)

DOT physicals

Hearing tests (like audiograms)

On-site services testing

Stress EKG and pulmonary function tests 
Contact us to set up a MainStreet Family Care corporate account and start delivering regular care for your entire organization today.