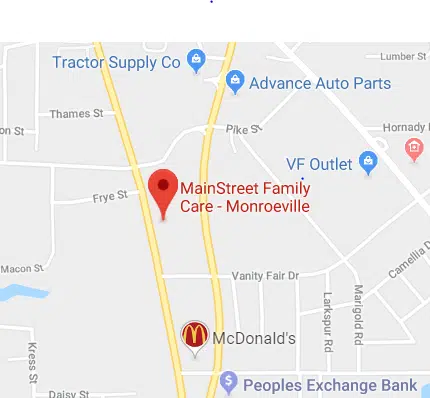 There's nothing fun about getting sick, spraining an ankle, or getting a flu shot. However, when you do need medical attention, our main objective is to make your patient experience a great one. Here are 3 reasons to visit MainStreet Monroeville for life's little bumps and bruises!
We're Open Late Nights & Weekends
It's frustrating when you come down with a cold or sprain your ankle. It's even more frustrating when you have to wait for an appointment or go to the Emergency Room! When we opened MainStreet Family Care in Monroeville, we wanted to fill that gap and help more people get the care they need without an unnecessary ER visit or waiting till the next day (or the day after) to get into a provider's office. We're open till 8 PM on weeknights and we're open on the weekends as well. All you have to do is walk in, no appointment necessary!
We're Great with Kids
We take pride in making our patients feel better FAST, especially our littlest patients. While we hate for little ones to get sick, life happens. And when it does, we're happy to help! We accept patients as young as 1 year old. So when they wake up with a fever or come down with a bug on the weekend, bring them on in. We're here 7 days a week so the little ones can get what they need and get back on the road to recovery!
Our Team is #1
Not to toot our own horn or anything, but we kinda have to! Our MainStreet Family Care team is #1 in Monroeville and surrounding areas. They are compassionate, informed, and go above and beyond to make patients feel well taken care of. Led by our talented team of Nurse Practitioners, there is always a team of experienced providers, medical assistants, and staff prepared to attend to your urgent care needs.
While we believe these should all be the standard in the healthcare industry, we're well aware that they're not. This makes us especially proud of our MainStreet Family, their commitment to being accessible, and their consistently great level of care. If you haven't been by to see us, pop in any time! We're happy to answer questions or see you for a visit. All you have to do is walk in and we'll be there!