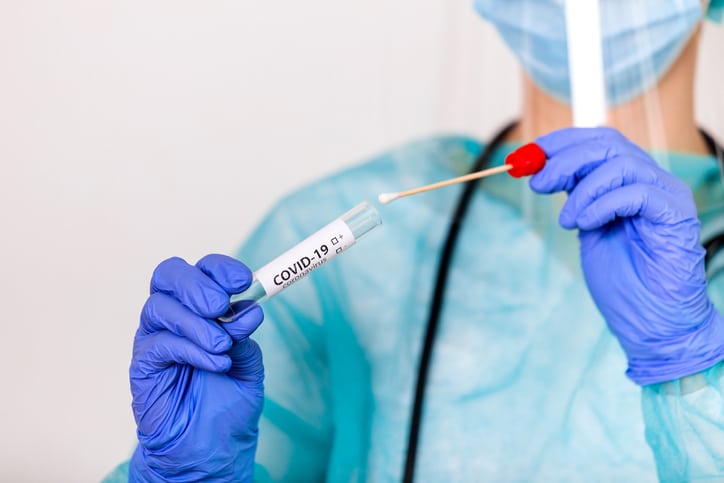 Many people need a COVID-19 PCR test to go on vacation, go back to work, or a physician has requested a PCR test with negative results. So what is a PCR test? Does MainStreet offer PCR testing? Is it the same as rapid testing? Here we explain the difference between the two tests. By the end of this post, you'll have all the information that you'll need before visiting our clinic. Please read carefully before arriving at the clinic.
Diagnostic or PCR Test
What it does: This test is used to diagnose people who are currently sick with COVID-19. This is the one we've been hearing so much about.
How it works: This test uses a swab to take a sample from a patient's nose or throat. The test uses a PCR (polymerase chain reaction) that finds the viral genetic material if it is present. That material is detectable when a person is actively infected. In addition, with the PCR test, the breakdown of the virus can still be detected after the acute illness.
How you get your results: We send these tests to an outside lab. The lab processes test results and we will call you when your test results come in. This typically takes 5-7 days.
Rapid Antigen Test
What it does: This test identifies people who are currently infected with the coronavirus. It may be used as a quick test to detect active infections.
How it works: Antigen tests can identify the virus in the nose and throat secretions. It does this by looking for proteins from the virus (as opposed to the diagnostic test, which looks for genetic material). The specimen is collected with a swab that reaches less than 1 inch inside the nose. This is not the same testing technique that you've heard about that some describe as uncomfortable "scraping of the brain."
How you get your results: We process these tests in our lab and patients receive the results before they leave the clinic. It takes approximately 20 minutes.
What if I need a PCR test within 72 hours?
We cannot guarantee that you will receive the results of your PCR test in 72 hours or less. These tests are processed at an outside lab and we do not have control over the lab's timeline. However, results are typically received within 5-7 days.
Can I get both?
Yes, we can provide both tests if you would like. Please contact your insurance company to discuss their policy on coverage of these tests.
Do I get to choose which test I can take?
Yes. If you need a specific test, you can request this when you arrive at the clinic.
What if I need my results immediately for surgery?
We can provide rapid results immediately and you will receive your results before you leave the clinic. We cannot guarantee you will receive the PCR test results within 72 hours. Results are typically sent to the patient within 5-7 days.
How do I get a hard copy of my test results?
For the rapid antigen test, you will receive a copy of your results before you leave the clinic. If you need these results sent to an employer or to another physician, we ask that you bring that information with you when you get your test.
For the PCR test, the clinic staff will call you with your results.
If I am in urgent need of COVID testing results for a special circumstance, is there a way to get tested faster?
No. Please know that your friends and neighbors are also in need of test results to get back to work, help ailing family members, and various other reasons. There is such a high demand for testing that we are unable to provide special accommodations. To get all the information you need for COVID-19 testing before arriving at the clinic, please click here and read carefully.