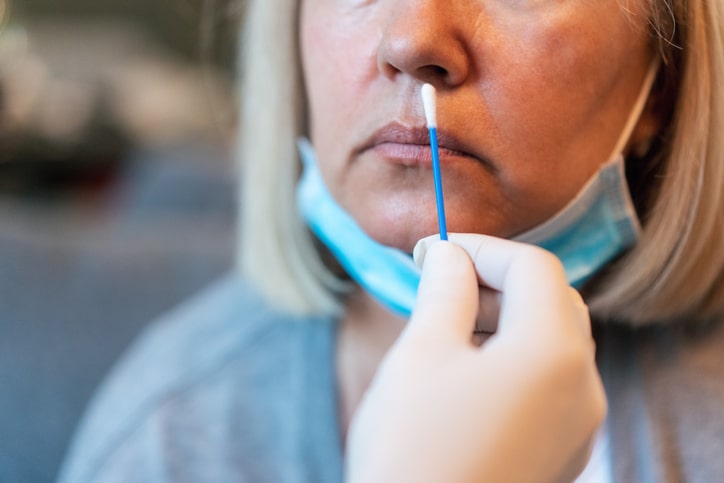 Updated July 26, 2020, 7:02 am. Effective immediately, our clinics have a COVID-19 testing threshold based on the amount of staffing in each clinic. We are putting every effort to hire more people so that we can increase that threshold and get more people tested. We understand this is a difficult time for everyone and we apologize for any inconvenience. Once we reach the daily maximum number of patients we're able to test, testing will stop for the day and start again the next day at opening hours. If you have further questions, please email info@mainstreetfamilycare.com. As testing evolves, so will our clinic policies. Please check here for updates before coming to the clinic.
MainStreet Family Care is pleased to now offer a rapid COVID-19 swab test at all 16 clinics throughout Alabama. This means you will be given an antigen test and receive results before you leave the clinic. As with other forms of COVID-19 testing, we wanted to provide as much information as possible so that you can make the decision that is best for you and the ones you care for.
What is the rapid COVID-19 swab test?
The rapid COVID-19 test we are offering is an antigen test that uses a nasal swab to collect a sample. This test will tell you if you have antigens for an active COIVD-19 infection. Antigen tests are designed to detect proteins from the virus that causes COVID-19 in respiratory specimens such as nasal swabs. The antigen test sounds like the antibody test, but the antibody test is not the same (the antigen is used to indicates an active infection; while the antibody test helps us see if you had a past infection).  You can read about the antibody test here.
What is the advantage of this rapid COVID-19 swab test?
Rapid COVID-19 swab testing allows us to take a nasal swab specimen from you and receive results in less than 20 minutes while you are still in the clinic.
How does this change my testing experience as a patient?
The process is the same as with other swab tests. We take the swab specimen when you come in–the same way we have for other swab tests. The only difference is that we are able to give you the results before you leave the clinic, instead of the specimen being sent off to a lab and waiting days for the result to come back.
Do I need an appointment?
No, we do not accept appointments. However, we are only able to test a limited number of patients a day.
When the clinics open, those requesting COVID-19 testing will be given a registration form with a number.
Once registered, you will wait in your vehicle until you are called to come into the clinic waiting room.
When your name is called, you will be taken to a patient room to be tested.
Results are provided before you leave the clinic.
Once we have tested the maximum number of patients for the day, we will cease COVID-19 testing for that day. We will begin again the following day at opening hours.
Is there a way I can speed up this process?
Please read all the information provided here. It will make things easier if you know what to expect.
Bring your insurance card and a valid form of government ID
Expect a wait time. Bring books, magazines, a fully-charged device, and possibly waters and snacks while you wait in your car.
Is this test FDA approved?
Yes. The FDA has made this test available under Emergency Use Authorization (EUA). You can view the authorization here (https://www.fda.gov/media/137886/download)
Where is the test made?
The test was designed and is manufactured in San Diego, California.
Is it possible for this test to give a negative result that is incorrect (false negative)?
Yes, this is possible, but not likely. If your test result is negative, your healthcare provider will consider the test result together with all other aspects of your medical history in deciding how to care for you. It is important that you work with your healthcare provider to help you understand the next steps you should take.
How accurate is this test?
The sensitivity for this test is 93.8% & the specificity is 100%. The most common cause for a false negative test would be from getting tested too early after exposure.  We do recommend that patients wait at least 24 hours after exposure or developing symptoms before getting tested. False-positive results are extremely, extremely unlikely.
How much does the COVID-19 rapid swab test cost?
We will submit the cost of the test and your visit to your insurance provider or the HHS Uninsured Patient Program. If for any reason they do not cover it, you will be charged $49. Our cash pay price for the rapid COVID-19 test is $49. We recommend you contact your insurance provider to determine the following:
If you will be responsible for the cost of the test and discuss the specifics of your plan and your current deductible balance
Ask them about a rapid COVID-19 antigen test with FDA Emergency Use Authorization
In addition to the test, some insurance companies expect you to pay for the office visit when you get the test along with other tests that may be run at your visit (such as a flu test).
You can find more information about the costs of testing here.
If you would like to have a COVID-19 rapid antigen test, please read the information on how to get a COVID-19 rapid test at MainStreet Family Care. Appointments are not accepted for COVID-19 testing.